To start the Crocodile farming business for farmers need to know some things about it. Before undertaking any business there are certain steps that must be taken into account. That is why when a person decides to start in Crocodile farming he must make a good business plan. Do the necessary studies to obtain feasibility, economic, financial, and geographical to have crocodile farming. Know the strengths, opportunities, disadvantages, and threats that exist in the market.
Crocodile farming is a business with the potential to be profitable. There are three key points that you need in order to have success with this business:
The right land for crocodiles,
The proper facilities needed to house and feed crocodiles,
A steady supply of food.
This blog post will explore what these things are and why they are important for having a successful croc farm.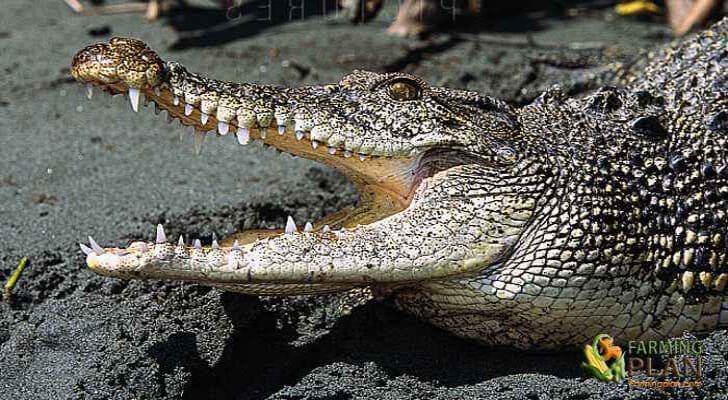 Purpose of Crocodile Farming Business
The world market demands more than one million crocodile skins every year. Depending on the demands of the region is the destination that will be given to the production of crocodiles. It is a stable and mature market that requires constant work throughout the production chain. Facing crocodile breeders facing. The reason is that it is a species threatened with extinction. After the indiscriminate hunting caused many natural populations of crocodiles to disappear.
For a couple of decades, efforts have been made to strengthen commercial breeding and conservation purposes. That is why there are farms where they breed that not only exist to market but to preserve and care for the species.
How to do it?
The first step is to analyze what type of business you want to develop. There are two modalities: the operation of a crocodile farm and commercialization. The commercialization extends to the articles that are generated in these centers like skins, medicinal oils, dissected brains, and teeth. If you choose to set up a farm you can also exploit it as a tourist attraction.
Where does it originate?
Over the years, the constant displacement and increase of human settlements throughout the world are observed. That is why it is necessary to create a company that is dedicated to the promotion of some species threatened by man and that generates economic gains. This leads to the development of a business plan of farming in the place where wild animals are bred in captivity. In order to receive an economic benefit, contributing to the conservation of species in danger of extinction and to the investigation of them.
In general, people who want to venture to raise or trade crocodiles tend to be advised in several areas. In the administrative and economic part since it must know how much to invest, purchase of food, an adaptation of facilities, egg collection, among others. As well as in the legal field to see what are permits you need and restrictions that traders and farmers have.
The farms should have a good location and should be well placed. So that the crocodiles will feel that they are in a natural habitat. They should have a list of the providers closest to the location of the farm. And also the personnel who work in the facilities must be well trained. And must have notions about the care, feeding, and handling of the crocodiles. The business plan must have its respective market analysis.
Where demand is to analyze, market segmentation, target market, positioning, competition analysis, among others. Likewise, the analysis is carried out, technical with its variables of raw materials, human talent, machinery and equipment, plant distribution. A financial forecast is also analyzed where the initial investment, sales and income, expenditure budget, labor budget, income statement, net cash flow, internal rate of return, and net present value are evaluated.
In addition, the organizational structure of the company, the legal framework, and the management of human talent take into account. You may also like to read Crocodile farming techniques
Market Studies
The main objective of the market study is to obtain information that helps us to face market conditions. Make decisions and anticipate the evolution of the market. This information must be truthful enough to demonstrate:
That there is a sufficient number of consumers with the necessary characteristics to consider it as a demand for the products and / or services that they intend to offer.
That said consumers can exercise a real demand that justifies the production and / or services they intend to offer.
In addition, future breeders have the bases to use appropriate marketing channels.
That we can calculate the effects of the demand with respect to products and / or substitute and complimentary services. Only in this way can supply and demand be determine.
In addition to studying if it is feasible to build a crocodile farm, in the country, and if there are suppliers that can provide food. A market study should serve to have a clear notion of the number of consumers who will acquire the goods or services that are intended to sell. You may also like to read Crocodile farming in Africa
Within a defined space, during a medium-term period and at what price they are willing to obtain it. In the event that trade can not be exercised in that country, exports may be able to provide solutions to the consumption of production. By attacking specific markets, you can export and achieve great benefits.
Conclusion
The success of a business will depend on many factors. The primary one is that the people who carry out the business have knowledge and experience in the area. In addition to knowledge, how to plan and execute before starting the business are key factors. That is why a Crocodile farming business plan is important when starting this kind of business. And if it is planned well from the administrative, financial, logistics, suppliers, and final distribution, the results will be excellent.
Since it will be handling an animal that is a carnivore, and that requires certain special care when it is in its initial stage. In addition, the care is not only feeding but also the area where the crocodiles are raised should be in good condition. Food is an important factor in the growth of animals. And the product that is obtained when the animals are well cared for is a skin of excellent quality in addition to producing meat.
As a reference: Wikipedia