If you are looking for a sheep that produces quality lamb meat and is an efficient wool producer, the Afrino Sheep is your ideal choice! This docile and hardy South African breed has been carefully developed by combining the Ronderib Afrikaner with Merino and South African Mutton Merino. Its unique composition makes it highly adaptive to tougher environments while still producing excellent yields of both meat and wool. With extra-long staple lengths its wool can be used in many applications including apparel. Find out more about this fantastic hybrid sheep!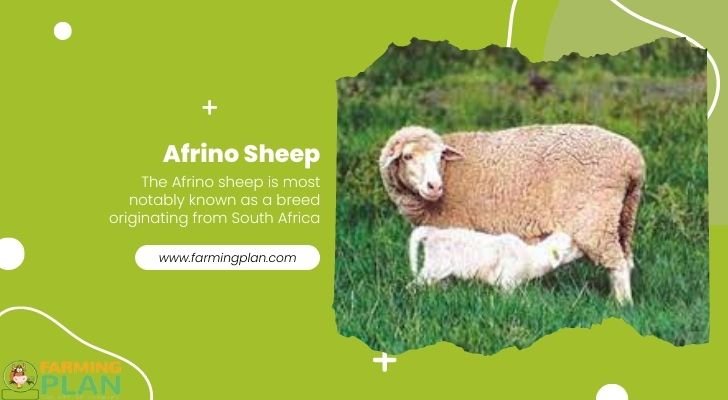 History & Origin
The Afrino sheep is most notably known as a breed originating from South Africa. It was bred by crossing the Ronderib Afrikaner and Merino with the South African Mutton Merino sheep, thus making Afrinos a hybrid breed. Afrinos are popular in South Africa today due to their larger body sizes and heat-tolerance, making them suitable for cold or hot climates. They are also renowned for their higher fertility rate, allowing for bigger herds and more production with less resources. Developed centuries ago, Afrino sheep have proven to be an excellent resource for modern farmers in South Africa.
Characteristics
Afrino sheep are a species of domesticated South African sheep first developed by interbreeding Ronderib Afrikaner sheep and Merino and South African Mutton Merino sheep. Afrinos carry desirable characteristics from all the parent breeds, such as a broad tail and relatively short legs, allowing them to be efficient grazers. Additionally, Afrinos are typically white with occasional black spotting on their heads or chins. As far as temperament is concerned, Afrinos are gentle animals, easily kept docile by normal handling techniques. All in all, Afrino sheep make for ideal grazing companions for farms needing easy-to-keep flocks.
Feed
Afrino sheep are known to be very efficient grazers and require low inputs, making them an ideal breed for farmers who wish to keep energy costs down. While Afrino sheep get most of their nutrition from grazing, they may need supplemental feed around certain times of the year – such as during very harsh weather or when the pasture available isn't enough to meet their needs. Supplementing Afrino sheep's diets with grains or other proteins can help ensure adequate nutrition, keeping the herd healthy and productive all year round.
Usage
Afrino Sheep are renowned for the quality of the wool they produce and therefore have been put to good use by shepherds throughout South Africa. Afrino sheep are preferred for their ability to survive in hot, dry climates as well as their excellent adaptability and ease of care. Generally bred for its fleece, Afrino wool is mainly used in the manufacturing of outerwear, blankets and carpets due to its softness, durability and warmth. Additionally, Afrino meat is also appreciated due to its leanness, sweet flavor and high nutritive value making it a sought after commodity. Afrino sheep prove to be valuable animals in South African agriculture and herding communities.
Special Feature
The Afrino sheep is an incredible breed of South African origin with a very special feature. Developed by crossing Ronderib Afrikaner sheep, Merinos, and South African Mutton Merinos, Afrino are particularly valued for their wool qualities. They produce exceptionally fine fiber which is suitable for a wide range of products and industries. Afrino have amazing working ability in addition to producing superior quality fleeces. Afrinos tend to live quite long lives due to the superior genetics and strength of this remarkable breed of sheep making them an asset on many farms. These truly magnificent creatures' genetic makeup ensure their continued success in the industry as they show distinct potential for providing exceptional wool quality and production capabilities.
Advantages
Afrino Sheep present many advantages over other breeds of sheep. As they are a hybrid between the Ronderib Afrikaner sheep, Merino, and South African Mutton Merino sheep, Afrino Sheep have uniquely strong bodies, making them especially well-suited for areas with harsh climates. Afrinos also produce an abundance of high quality fleeces that bring excellent prices on the market. Furthermore, Afrino Sheep are easy to care for and do not require special management techniques. Thanks to their superior body structure and hardiness, Afrinos require less feed than other breeds and can survive in heathland environments where no supplementary feeding is necessary. All of these qualities combine to make Afrino Sheep an ideal choice for farmers looking for long-term returns.
Breed
Afrino Sheep have a unique origin story since they were created by crossing Ronderib Afrikaner sheep, Merino, and South African Mutton Merino sheep. This blend of relatively unrelated breeds has given Afrinos a special set of characteristics that differentiate them from other breeds. Although Afrinos are their own breed, they do have some close relatives who share notable similarities due to their intertwined histories such as the North African Barbary and Afrino Namaqua sheep breeds. To this day Afrinos remain one of the most widely found and sought after livestock in South Africa, with other related breeds providing stiff competition from neighboring countries.
How To Care For an Afrino Sheep ?
Afrino Sheep are hardy and low-maintenance, but to keep your Afrino in tip-top shape, there are a few things you should know. These South African bred sheep thrive in warm climates, and so can become more susceptible to heat stress during the summer months – for this reason, providing ample access to shade is important. Afrino sheep love lush grassland and should be allowed an abundance of space to roam freely. Regular check-ups with a vet are also recommended; they'll give your Afrino a comprehensive health assessment, as well as recommend the best vaccines and drenches depending on your geographic location. With proper care and attention, your Afrino can lead a long life of peaceable contentment!
Health Concerns
Afrino Sheep health is something that must not be overlooked when considering this breed of sheep. Afrino Sheep are known to possess excellent hardiness and longevity, but they are also subject to potential conditions related to their heritage. Afrino Sheep carry traits from both Ronderib Afrikaner sheep and Merino, meaning they are predisposed to hip dysplasia and arthritis, as well as an increased susceptibility to external parasites. With that being said, the Afrino has earned a reputation for its efficient feed conversion rate and hearty constitution, making it an ideal choice for many ranchers looking for a hardy sheep able to survive in harsh climates. Taking preventative measures such as providing access to plenty of grassy areas and following timely deworming schedules will ensure your Afrino is healthy and happy.
Tips for Buying a Healthy Afrino Sheep
Afrino sheep are considered to be one of the healthiest and hardiest breeds available. When buying Afrino sheep, the most important thing is to make sure that they are healthy and well-taken care of. Before purchasing, take a close look at the animal's coat, hooves and ears. Check to ensure that there are no visible signs of disease or injury. You may also want to ask for documentation about their vaccinations, deworming treatments and general health history. Additionally, observe the Afrino's behavior; frightened or jumpy animals may have been neglected in the past—or even may have been mistreated. While Afrino sheep have a reputation for being gentle creatures, it is good practice to evaluate them for signs of aggression before you buy. Taking these precautions will help ensure that you are getting a healthy Afrino sheep that will thrive in its new home.
FAQ
What is an afrino sheep?
An afrino sheep is a breed of sheep created through selective breeding in the late 20th century. It was developed by crossing four major breeds: Suffolk, Perendale, Hampshire and Romney. The goal of its development was to create a high productivity herd that could graze on semi-arid pastures that are often difficult for other breeds.
Where do afrino sheep come from?
African sheep (Ovis aries africana) originate from sub-Saharan Africa and have been around for centuries, making them one of the oldest known breeds of domesticated animals. African sheep have adapted to living in harsh conditions with dramatic changes in temperature, drought periods, and other environmental factors.
What do afrino sheep eat?
African or Somali sheep (Ovis aries) are highly moisture-dependent grazers, ideally suited to the perennial grass and shrublands of its native range. In their natural environment, they feed chiefly on succulent forage species such as Sporobolus spp., Sorghum spp., Echinocloa spp. and Panicum maximum. However, their diet also includes browse plants such as Acacia, Commiphora and Grewia species when available in sufficient quantities. Other than that African Sheep also consume herbs like grasses, legumes and ferns along with tubers or rhizomes of some local species like Panicum turgidum – all depending upon seasonality & regional availability.
Conclusion
All in all, the Afrino is an amazing breed of sheep. Its development can be traced back to South Africa, and it has wonderful characteristics that sets it apart from other breeds. Not only do they have superior feed tolerance, growing quickly on sparse grasslands, but they are also incredibly gentle and easy to care for making them a great choice for farmers. They have only been around for a short time, but have already seen plenty of success due to their unique traits and advantages! Above all else, the most important aspect is buying a healthy Afrino sheep. This should be done by doing research on the breeder and inspecting the flock carefully before purchasing. With proper care and attention, your Afrino Sheep can become a loyal and trusted companion in any farm setting!